Fall Boutique Blowout Sale - Vendor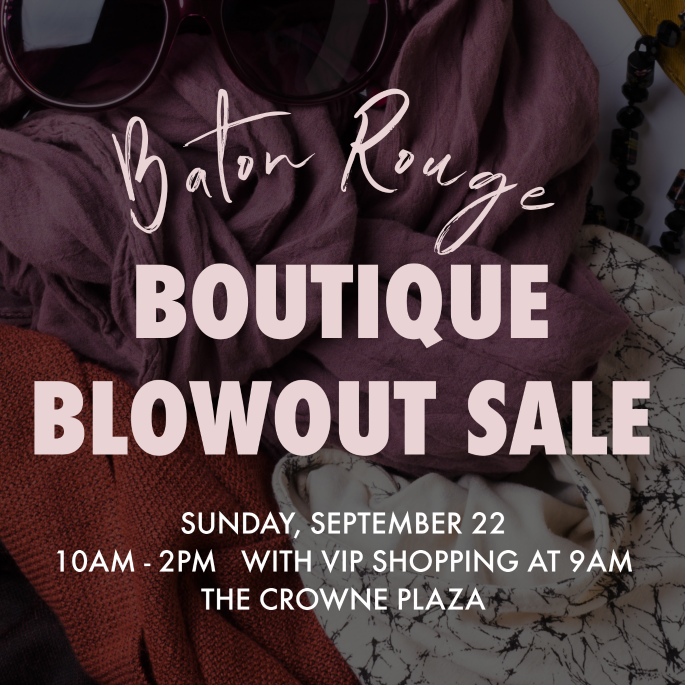 Fall Boutique Blowout Sale - Vendor
The Baton Rouge FALL Boutique Blowout Sale will be at The Crowne Plaza on Sunday, September 22.
VIP SHOPPING: 9AM - 10AM

OPEN TO THE PUBLIC: 10AM - 2PM

SET-UP TIME: 7AM - 8:30AM
Ready to transition your boutique into fall and winter? Bring your end-of-season apparel to Baton Rouge's biggest boutique sale! Locals come ready to shop — always lining up outside!
You're welcome to bring new regular-priced merchandise, however, at least 80% of your merchandise must be marked down.

Vendor Space Includes: 8x10 booth space, including one 6' table, two chairs, one wastebasket, one 6x42 I.D. sign & pipe and drape. Six dressing rooms with mirrors will be available in the back of the room. You may bring your personal pop-up dressing room.
In addition, each vendor will be given two free VIP tickets to give away on social media to promote the event.
APPLICATION STEPS:
1- Apply and pay for your booth space.
2- Your payment will be processed following your application's approval.
3- You will receive a contract via email with your confirmation. This contract must be signed and returned within 48 hours of your application approval.
4- Once your contract has been received, you will be added to the vendor list and provided with promotional materials, including two free VIP tickets to giveaway to your followers.
*BRFC members receive $100 off vendor space with promotional code. Enter this code on your checkout page.
sold out